June 2017
Time for a change ... Time for an upgrade ... Time for Desks International !!!!
Loughridge Dental Care recently converted an existing kitchen/office space into a modern breakout area and administration zone.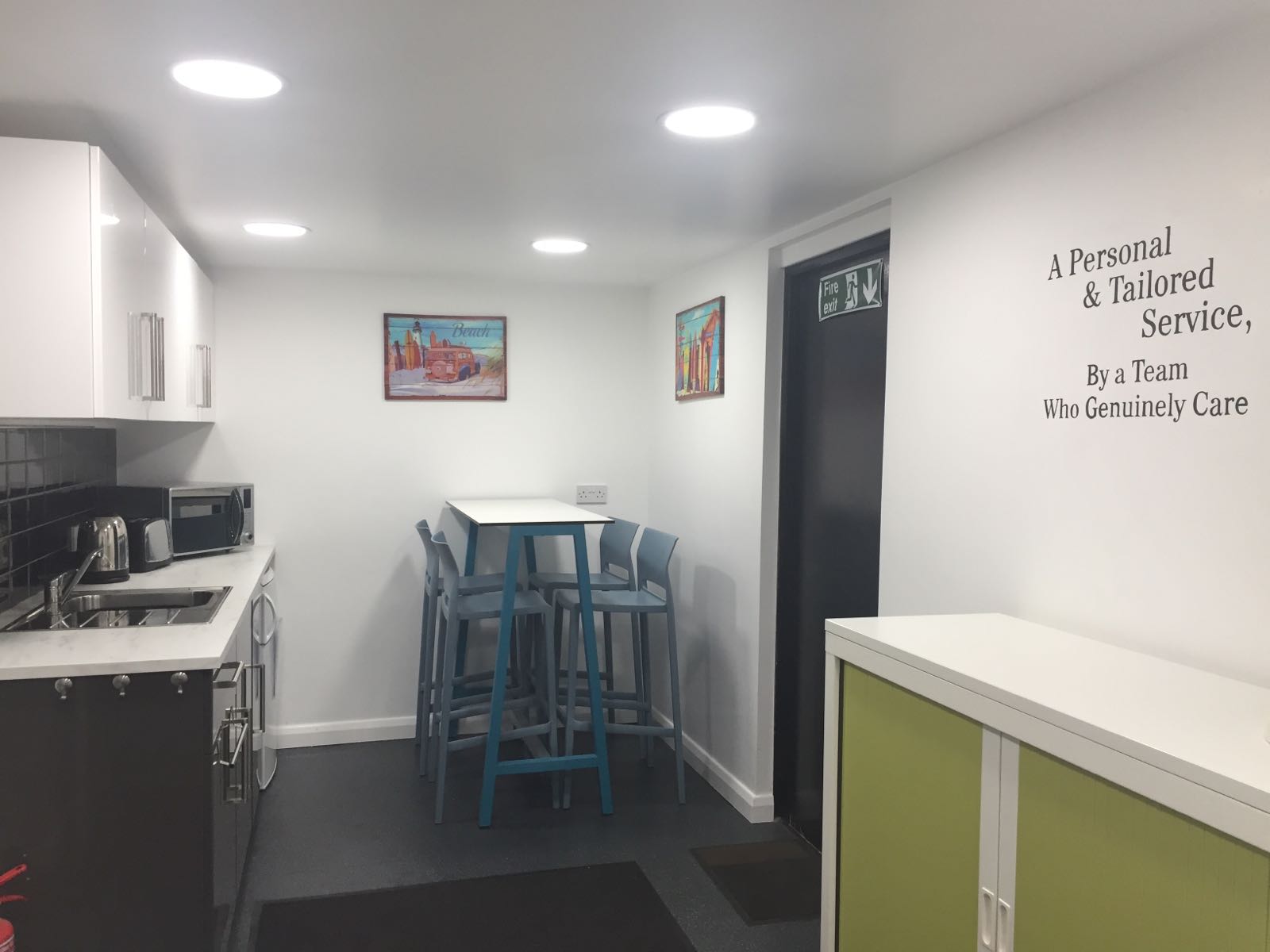 Thanks to advice on space and planning from Desks International, a new kitchen layout combined with coffee dock and administration area was created.
A modern kitchen, fresh lighting and furniture from Desks International made the space brand new.
This unique space is now transformed into a bright modern oasis of tranquillity for the benefit of the Boss and the Team..
Desks International are proud to be associated with this project.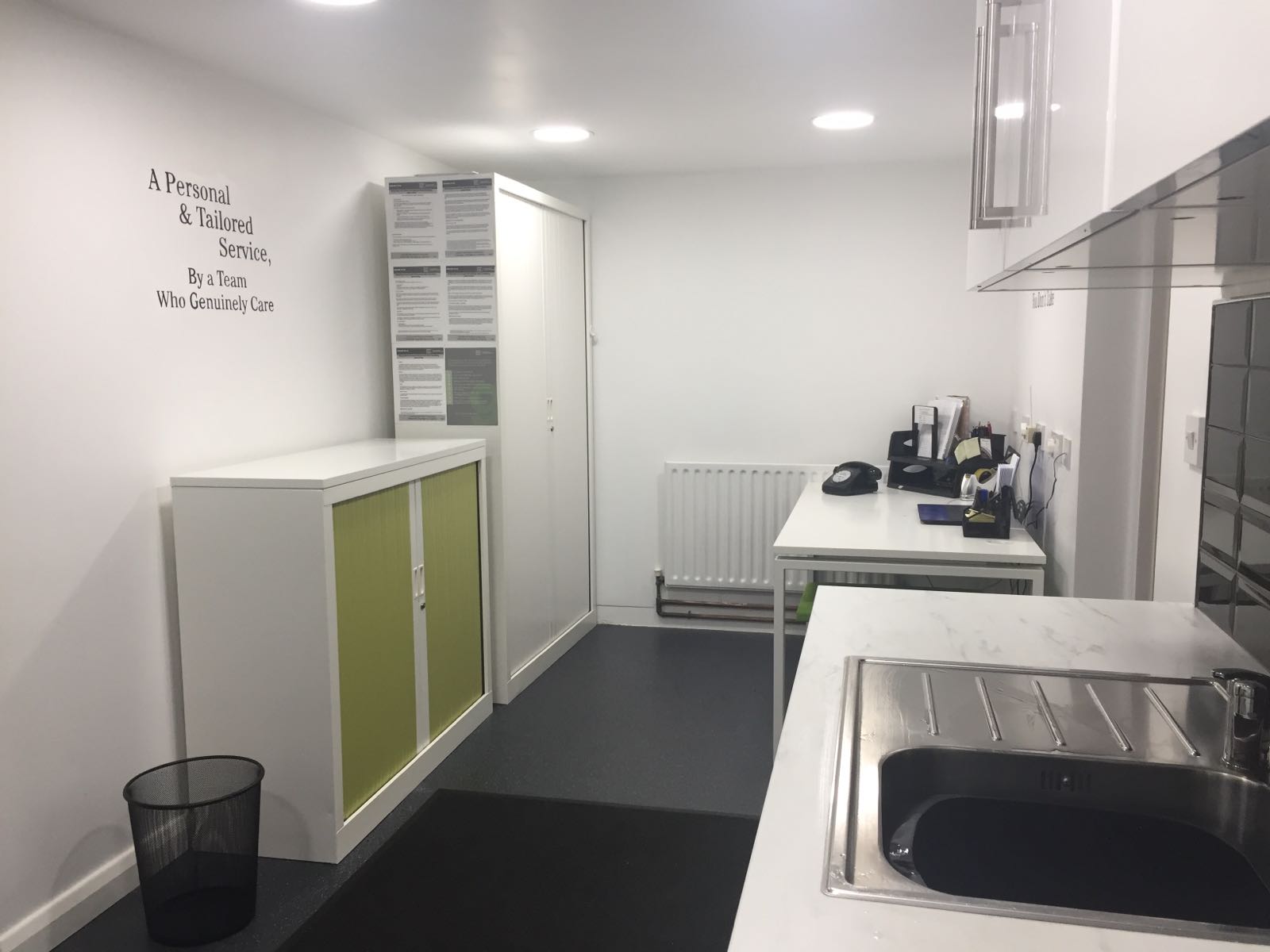 Desks International
Head Office & Showroom
11 Bruce Street
Belfast
BT2 7JD
e: info@desksinternational.com
w: www.desksinternational.com
The following is a copy of news article taken from the BELFAST TELEGRAPH online on 20/06/16.
The link to the article is at the end of the piece.
Faster than a ferry, windsurfing dentist whose 100-minute channel crossing is on course for record...
A dentist will walk into his surgery this morning as a world record-breaker, after windsurfing from Northern Ireland to Scotland in 100 minutes.
The 57-year-old Malone Road adventurer set sail yesterday from Cushendall, arriving at the Mull of Kintyre lighthouse a mere one hour and 40 minutes later. And while Chris enjoyed a wee dram of whisky to celebrate the historic journey on the waves, it's Guinness he now has on his mind.
That's because his race against time looks set to be accepted by the Guinness World Book of Records, after the sail was recorded independently by those accompanying Chris by boat, including a UTV cameraman.
"I am over the moon," an ecstatic Chris told the Belfast Telegraph last night. But the record attempt was always going to be subject to the whims of the wind and waves.
"The weather was so fickle, I didn't know if I'd even make it. "It changed so much, I didn't know where I'd end up when I sailed out. The wind direction changed completely. It was very difficult to sail - very choppy." So choppy in fact, that even the experienced sailor behind the wheel of the boat was sick on arrival.
And with the waves throwing him about so much, Chris felt that he had flown for much of the ride. "I was doing about 26 knots - I was in the air quite a bit," Chris said. With visibility "awful", Chris was concerned about missing his target - the Mull of Kintyre lighthouse. "I only saw it when I was about 400m away," he said. "We got it right on the nose. It was an absolutely incredible sight."
Chris, who took on the challenge for charity, stepped off his board and onto a rock to mark the end of his trip. He said that it had been "a crazy thing to do". But, he added, it was one more thing to tick off his bucket list. His wife Kathy was herself a surfer, as are their two teenage children, and she is perhaps more understanding than most partners.
The courageous couple have enjoyed previous adventures together. "We climbed Ben Nevis, and climbed to the Everest base camp," said Chris. "But I got altitude sickness. "I said to her that the next time I tried something, it would be at sea level. And you don't get much more sea level than this."
Rather than take it easy after such a gruelling challenge, Chris will be back at work this morning in his Lisburn Road dental practice in Finaghy. "Gym at 6am, then work at nine," he said.
Chris said it had helped raise around £10,000 for Marie Curie cancer care. Just over half of that - £5,210 - has been donated so far on his JustGiving fundraising page.
"I'm fundraising to support the amazing work that Marie Curie do," he said. "It would be great if you could donate and share my page so I can raise as much as possible to help them care for people with terminal illnesses to give them the choice to die at home."
Link to BELFAST TELEGRAPH Story by Stephen Alexander
Link to JUST GIVING Charity Website for Chris Loughridge